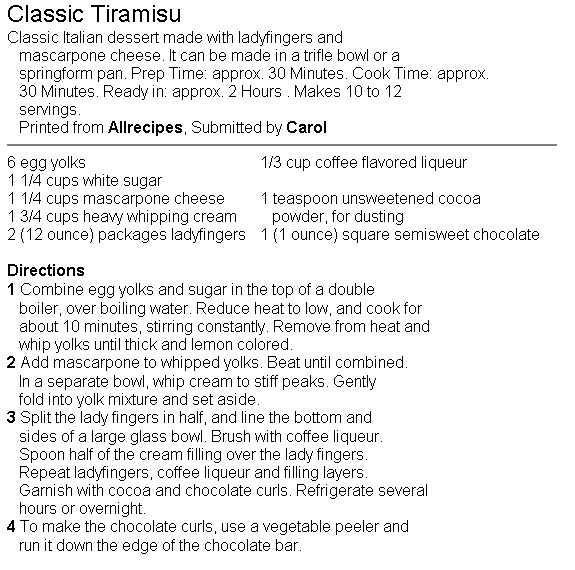 I try to buy the crunchiest ladyfingers possible (not the real soft ones). I found them at Treasure Island. I could not find them at a typical grocery store.
You'll need more than 1 ounce of chocolate if you want to cover the top with tons of shavings.
I use half Kahlua and half strong coffee (cooled or room temp---make this first. I usuallly put it in the freezer for 15 minutes in coffee mugs) to dip the ladyfingers in.
Do not buy the tiramisu flavored mascarpone cheese.
This recipe makes a lot. You can use a big springform pan. You'll probably need two packages of ladyfingers.
For a double boiler, I boiled water in a small sauce pan and used a small stainless steel bowl that sat into the sauce pan. Make sure that the boiling water does not touch the stainless steel bowl.
Quickly put the ladyfingers in the Kahlua/coffee mixture and roll it once around then quickly remove. Even though the ladyfinger is still crunchy to the touch, it will soften over time.
Don't forget to break the ladyfingers in half before you soak them to create the border around the circumference of the pan. I usually dip the bottom of the halves in some mixture (put the mixture in a separate small bowl so the liquid doesn't get all over the big bowl of mixture) to help them stick better against the walls of the springform pan.
Also, there are two sides to the ladyfingers, put the nicer looking side towards the outside of the springform pan. When you remove the springform, it will look nicer.
I lightly dust the top with cocoa powder. The cocoa powder really doesn't taste good. I might even forget this next time. I usually cover the top with tons of semi-sweet chocolate shavings.
You can make this well in advance. It refrigerates well. It also stays good for several days.
You can pipe some whip cream (make sure you save some before folding into the custard) on top. You might want to sweeten (add sugar and vanilla) the whip cream that you use for piping.
Here's some photos of the finished product: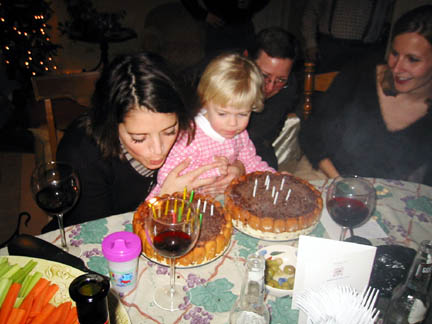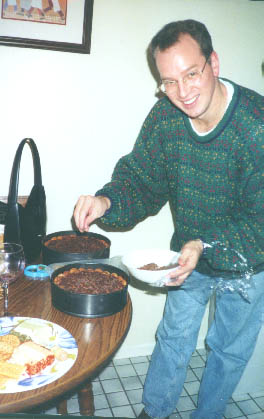 Contact Tim Kemp by email.